Let's Gag Carter-Ruck
Hosted By: Flashmob
Hashtag: #gagCarterRuck
Views: 19800
Edit: The injunction brought against the Guardian has now been lifted, as the social media noise generated had made it damn near useless.
However there is still plenty to shout about:
"The Commons' gag is not the only issue. The there is also the September 11, 2009 secret gag, which is presumably still in force, and Independent, has removed from its site, without explanation, its Sep 17 investigative article on the issue "Toxic shame: Thousands injured in African city". The reasons are currently unknown to WikiLeaks."
Trafigura (through Carter-Ruck) also suing the BBC RE it's investigative reporting into the alleged Ivory Coast dumping.
This isn't just about the freedom of the press, it's about accountability, too.
---
To protest against the Guardian Gag, ordered by Carter-Ruck, blocking reporting of the goings on of our OWN PARLIAMENT (and for no other reason than the protection of corrupt private enterprise) we are going to GAG THEM
Silent flashmob, come stand silently out side the offices of Carter-Ruck (map below), gagged with a piece of black fabric.
We won't be breaking the law, they, and the people they represent are.
Nearest Tubes: Chancery Lane, Faringdon.
Hashtag: #gagCarterRuck
Take pictures, get the noise out there.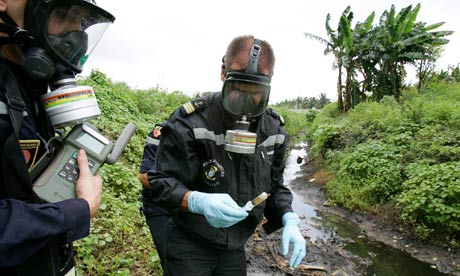 More info:
The gag is generally considered in the Blogosphere to be to do with toxic dumping by the reprehensible Trafigura, to read more about their appalling practices read here or listen here. You can also follow the #guardiangag hastag on twitter for more reactions.
"[Trafigura] has also threatened journalists in the Netherlands and Norway, but the law is less kind to such plaintiffs in those countries, and its threats were taken less seriously.
In Britain, libel (or defamation) is used as the rich man's sedition law, stifling criticism and exposure of all kinds of malpractice" Monboit writing here
Speak out against enforced silence.
Location
6 St Andrew Street, London EC4A 3AE